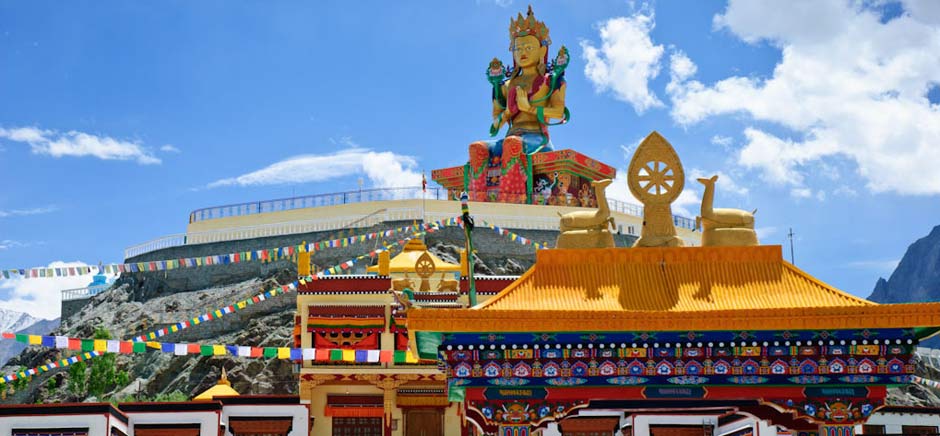 Diskit Travel Guide
Sparsely populated, Diskit is an attractive Village in the Nubra Valley. Known for the spectacular Deskit Gompa, the beautiful hamlet is although remote but offers matchless experiences. With just the sound of gushing Shyok River breaking the silence prevailing in the area, visitors find the desired respite away from the chaos of the city life. Decked with historic monasteries, pristine valleys, lovely grasslands and much more, the place is truly a paradise. Offering a perfect escape amidst serenity, the town allows you to enjoy the 'Me' time.
Located on the banks of the Shok River, Diskit Village is an administrative center of the Nubra Valley of Ladakh. The scenic town comprises of various government offices. Perched at a height of 10,310 feet above sea level, the hamlet offers stunning views of the Nubra Valley. The destination witnesses tourists both in winters as well as summers for a number of reasons. But, the village is particularly famous for an iconic monastery. The Diskit Gompa is one of the oldest and largest Buddhist Monastery and dates back to the 14th century.
Although the village has a bus/taxi stand, a market, a tourist reception center and Leh's only petrol pump (1 kilometer toward North) but people love to visit Diskit for the monastery. Dosmoche festival is celebrated in the gompa which houses a Maitreya Buddha statue. Along with the images of the fierce guardian dieties, there are drums, paintings and other worth-witnessing things within the premises. The monastery is home to around 100 monks. There is an Internet Café as well in the town.
Trending Ladakh Tour Packages
10 Days
Ladakh Bike Trip 2021
Start: Manali / End: Manali
Price
₹ 40,00024% off
₹30250
Per Person
12 Days
Manali Leh Srinagar Bike Trip
(Fixed Group Tour)
Start: Delhi / End: Srinagar
Price
₹ 28,50026% off
₹21,200
Per Person
11 Days
Srinagar Leh Manali Bike Trip
(Fixed Group Tour)
Start: Srinagar / End: Delhi
Price
₹ 29,00025% off
₹21,800
Per Person
7 Days
Ladakh Trip With Siachen By Air
Start: Delhi / End: Leh
Price
₹ 35,00021% off
₹27,814
Per Person
4 Days
Glimpses of Ladakh
Start: Leh / End: Leh
Price
₹ 15,00017% off
₹12,400
Per Person
7 Days
Journey to Ladakh
Start: Leh / End: Leh
Price
₹ 29,20015% off
₹24,800
Per Person
Others Destinations in Leh Ladakh