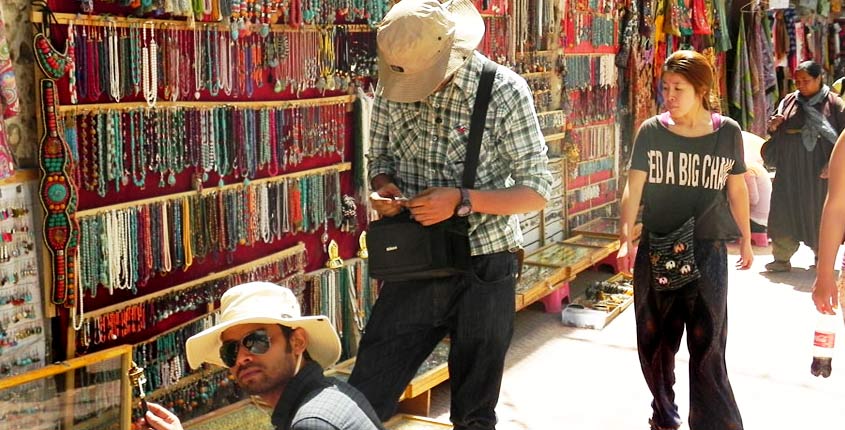 Shopping in Ladakh
Introduction
It is really impossible to come empty hand from the Ladakh tour. Its incredible beauty fills your heart with eternal joy. Similarly, the Himalayan ecosystem, Ladakhi culture, and Buddhist artifacts offer a wonderful experience for shopping in Ladakh. You can bring home some of the most exclusive handicraft and Handwoven items from the traditional markets of Ladakh.
This Himalayan valley shares the ancient Silk Route through which traders used to travel with the cargo of silk, carpets, silver, coral, velvet, brocades, etc. This is a contributory reason for the shopping extravaganza in Ladakh. In addition to the Buddhist artifact products, Ladakh is famous for producing exclusive carpets, silver items, Handwoven garments, etc.
There are several markets that offer Ladakh special things to buy. You can enjoy shopping for curios and souvenirs in the bazaars and markets of Leh, during your trip to Ladakh. Popular items for tourists are Pashmina shawls, stoles, and other Pashmina wool garments. Locally handmade woolen socks, gloves, caps, and sweaters are also favorite items of tourists in Ladakh.
Buddhist artifacts act as a great patron of the Ladakh shopping experience. Tibetan handicraft items including prayer wheels, Buddhist masks, and Thangka paintings can be purchased in Ladakh. Tibetan silver jewelry and traditional Ladakhi jewelry with turquoise are also popular with tourists. Apricots that grow abundantly in Ladakh are another popular gift that you can take back as a delicious souvenir of your trip to Ladakh.
Handwoven rugs, carpets, and shawls available in a wide range of prices are the famous things to buy in Ladakh. The carpets have floral or geometric designs or dragon motifs on them and can also be hung as decorative wall hangings. Woven in wool collected from Ladakhi goats, and dyed with natural dyes, Ladakhi carpets and rugs are thick, long-lasting, and objects of utility and beauty, which you can buy while shopping in Ladakh.
Some other items popular among tourists are Pashmina shawls, stoles, and other woolen garments. Handmade woolen socks, gloves, caps, and sweaters are also favorite items of tourists in this region. The markets of Ladakh are also stored with carpets and handwoven rugs in a wide range of prices. Another thing you must not forget to buy in Ladakh is apricots because this dry fruit in this particular region is considered to be of exceptional quality.
You can shop at local markets in Leh such as Tibetan Market at the Old Leh Road for clothes, Moti Market near the Leh bus stand, and Ladakh Art Palace. You can also visit the Women's Alliance in Changspa, Tibetan Handicraft Community Showroom in Choglamsaretc or government-run emporiums; there are several options.
While shopping in open markets, bargaining is commonly practiced and the final price you pay for any product will depend on your negotiation skill with the seller. In government-run crafts emporia and larger established stores, the prices are fixed where bargaining is not applicable.
Some Good Places for Shopping in Ladakh:
Ladakh Art Palace on the Main Bazaar Road- Here you will find a wide variety of Ladakhi jewelry, Tibetan wares, artifacts, and antiques.
Tibetan Handicraft Emporium on the Main Bazaar Road- There are several things that you can buy from this store run by Tibetan refugees. Ladakhi jewelry in both silver and stone, various housewares, exquisite gift items, and much more are stored here.
Tibetan Handicraft Community Showroom in Choglamsar- This is one of the best handicraft shops in Ladakh run by Tibetan refugees to buy handicrafts and antiques at affordable prices.
Cottage Industries Exposition in Changspa - This is a one-stop-shop for locally made handicrafts, shawls, hand-woven garments, carpets, and rugs that are exhibited and sold here.
Ecology Centre in Changspa - At this place, you can learn about ecology conservation and also buy some souvenirs from the handicraft shop. The center has a very well-stocked library and a handicraft shop that promotes and sells locally produced clothes, thangkas, bags, purses, shoes, and much more.
Women's Alliance in Changspa - This is one of the few markets in India run only by the women. The women from the neighboring villages sell their products here that not only include Pashmina Shawls but also the daily requirements.
Main markets in Leh - There are two popular markets in Leh, Tibetan Market at Old Leh Road famous for clothes and Moti Market near the Leh bus stand famous for gems, pearls (Moti), and precious stones.
Best time for Shopping in Ladakh:
The peak tourist season in Ladakh is from the month of June to September which is also the best time for shopping in Ladakh. During this time, artists and traders from all over the region gather at the markets with freshly produced handicrafts, ornaments, home decor, clothing and food items.
Things to Buy in Ladakh:
Tibetan Handicrafts: Prayer wheels, Thangka paintings, Buddhist masks, Tibetan trumpet, bell, Gur tea churners, Buddhist flags, etc.
Ladakhi Jewellery: Blue stoned Jewellery, Ladakhi Silver Jewellery, semi-precious stones Jewellery, etc.
Handwoven Pashmina Products: Shawls, stoles, woolen garments, caps, gloves and socks, Leather Jackets.
Handicraft Items: T-shirts with various themes and designs, Hand-woven rugs, carpets, etc.
Leh Ladakh India offers tours to Leh and Ladakh. For more information or to book a tour, please enter your query in the form below.
Packages by Theme