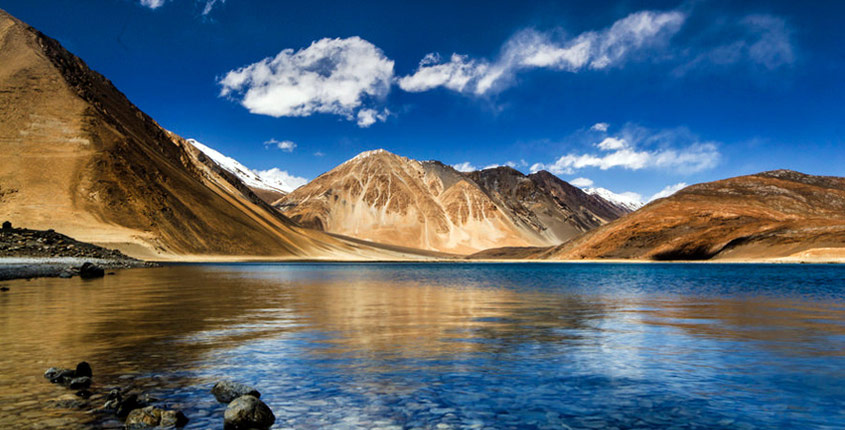 Pangong Tso
Introduction
You never know what surprise nature has in store for you in Ladakh, 'India's Own Moonland' in Jammu and Kashmir. Outstanding amongst them is the Pangong Lake. Situated at a height of almost 4,350 m above sea level, this natural wonder is the world's highest saltwater lake. Its water, which seems to be dyed in blue, stand in stark contrast to the arid mountains surrounding it. Cradled between India and China, the lake extends to almost 160km. One-third of the endorheic lake lies in India and the other two-thirds in China.
Pangong Lake, one of the most famous high altitude lakes in Leh Ladakh. This scenic wonder derives its name from the Tibetan word, "Pangong Tso", which means "high grassland lake". You could spend hours in contemplation here, and still not have enough of its beauty. Pangong Tso is also known to change colors, appearing blue, green and red at different times of a day. If you have decided to go on a trip to Ladakh anytime soon, don't forget to visit Pangong Lake. The beauty which awaits you there cannot be described in words. It has to be seen, felt and absorbed all by yourself.
Things to do at Pangong Tso
The beauty of Pangong Lake is in itself a reason enough to plan a trip there. However, there are other things to do at Pangong Tso that will keep you excited during the duration of your stay here. One of them is camping. Camping at the Pangong Lake can be an enthralling experience. Place a bonfire, get a barbecue going and enjoy the beauty surrounding you – it can't get better than this!
Although leaving the warmth of your camp is extremely difficult, go ahead and step out. During the night, the stars of the sky shine in all their glory. The feeling you get is that of oneness, of the skies and the universe immersing themselves in you. At dawn, get out of your camp and watch the sunrise. Watch, as the rising sun gradually disperses the darkness and ushers in the light. Carry a camera with you, and capture these splendid moments while you spend a wonderful time at one of the best lakes in India.
A few of the migratory birds also flock here. This makes the site heaven for the bird watching enthusiasts. You can further extend your trip to Tso Kar Lake.
The route to Pangong Lake is as beautiful as the lake itself. To get a glimpse of this beauty, stop about 10 km from before Pangong Tso, if you are coming from Leh. You will be greeted by a few signboards saying, "Stop here to see rare endemic species Marmot". Marmots are large squirrels which are found in mountainous areas and reside in burrows. Despite being quite dodgy, they do come out from their potholes during the day. Thus, there is a good chance of spotting them.
An adventure is all about taking on challenges and being brave enough to try anything unusual. One of the unusual things to do in Pangong Lake is to take a dip in its cold and brackish waters. Usually, tourists leave Pangong Tso after sunrise as they have to reach Leh before sunset. Before doing so, take a dip in the lake. Yes, it sounds crazy, and you would be crazy enough to try it. But craziness is what makes an adventure thrilling and memorable.
Permit and Permission
You must be wondering, what is the permit and permission procedure for visiting Pangong Tso? What documents should I carry with me? We have the answers to your questions.
There are certain areas in Ladakh which are considered inner line (areas close to the border with either China or Pakistan), and Pangong Tso Lake is one them. Therefore, Indians will need to obtain an inner line permit for visiting this place. Foreign nationals visiting this place are required to obtain a protected area permit if they want to travel from Leh to Pangong Lake.
Earlier, obtaining an Inner Line Permit (ILP) was a cumbersome task. However, the government authorities made that task much easier by launching a web portal named Leh Permit. All you have to do is visit the website and follow the steps mentioned there. You will also have to pay INR 400 per Person as an environmental fee + 20 rupees per day as Inner line fee at the time of getting the permit.
Although it's true that the online method of applying for the Inner Line Permit has made it extremely easy for travelers. However, it should be noted that the payment for the permit cannot be made online. As of now, there is no provision for that. To make the payment and get your permits signed or stamped, you need to take a print of the online form along with its copy and visit the following address – TIC Office, Opposite J&K Bank, Main Market, Leh.
Accommodation options
You will find several camps in close proximity to the Pangong Lake with well-equipped facilities and amenities. You could book your stay in any one of them. The stay will be both comfortable and exciting.
However, if camping is not your cup of tea, then there are other accommodation options available. You could also opt for homestays in nearby villages at Pangong Tso. The locals of this region are very friendly and will ensure that you have a comfortable experience. Opting for a homestay is also a great way of mixing with the locals.
Food options
Pangong Lake is located an altitude of almost 4,350m, and as such, the food found here is quite simple but nutritious. It would be extremely naïve of you if you went there expecting fancy fast food like pizzas, burgers and coke. What you can expect is basic yet nutritious food which will be both filling and comforting. However, you will not be disappointed because enjoying a meal at that altitude and in that environment is an extraordinary experience in itself.
How to reach Pangong Lake?
You can reach the Pangong Lake from Leh, the route of which has been mentioned below.
Reaching Pangong Lake from Leh
Pangong Lake lies at a distance of almost 160km from Leh and passes through the world's third highest motorable pass, Chang La. If you are coming on this route, you need to take the Manali-Leh highway and keep driving till you reach Karu. This should take you less than an hour. Leave the Manali-Leh highway from Karu and turn left towards Sakti. Continue towards Chang La.
After reaching Chang La, keep going towards Durbuk. You will reach the town of Tangste in a few hours. From Tangtse, Pangong Lake starts appearing after about a distance of 8 km. Alongside the lake, you will find several lakes which will be used for camping.
Reaching Pangong Lake from Nubra Valley
If you want to reach the Pangong Lake from Nubra Valley, you need to follow the route which has been mentioned below.
There are two routes that you can take if you want to reach Pangong Lake from Nubra Valley. One of the routes will take you past Wari La, a high-altitude pass located at a height of almost 17,400ft. The other route will let you travel along the Shyok River. One advantage of taking these routes is that you don't have to return to Leh from Nubra Valley, thereby saving a day in your trip.
Road Conditions
The roads in Leh Ladakh are generally bumpy and uneven, all the way to Chang La Pass. After that, the roads conditions get better gradually.
When it comes to the vehicles most suitable for the roads in Leh Ladakh, the safest option is to go with an SUV. They are best suited for the twists and turns that are common in the roads of Leh Ladakh.
Nearby Attractions
One of the nearby attractions to Pangong Lake is Tangtse Gompa. It's a great place for enjoying the lovely views around and hanging out for some time. En route to Pangong Lake, you will pass through Chang La. Located at a height of 17, 590ft, it's believed to be the third highest motorable road in the world. You can stop here, enjoy tea at the small cafeteria at the army base and click as many photographs as you want.
Best time to visit
There is no particular "best time to visit" Pangong Lake. It all depends on what you are interested in. If you love being in the company of snow, then winters (November to February) is the best time to visit the lake. During this time, however, Pangong Lake remains completely frozen and you can enjoy walking on its frozen surface, as well as ice-skating.
At other times of the year, however, the lake appears as beautiful as ever. The landscape is breathtaking and you can enjoy camping on its shores.
Important tips and suggestions
Health
Altitude sickness is real. Take a day's rest to get acclimatized.
Always carry enough warm clothes with you. In case your clothes get wet or incur some damage, you can always replace them.
Carrying a medical aid kit is very important, especially if you are going on a motorbike tour to Ladakh.
Permits
The procedure for obtaining an Inner Line Permit (ILP) has been mentioned above. You should carry the permit and other documents with you all times.
Keep adequate photocopies of all documents with you always.
Eateries
What you will find are small shacks in the villages that offer Maggi, hot soup and other stuff.
It's better if you carry dry fruits and biscuits with you.