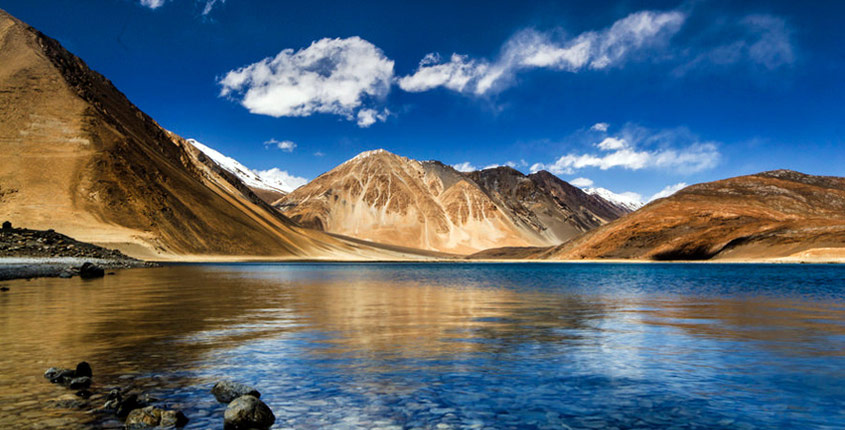 Pangong Lake
Introduction
Pangong Lake, one of the most famous high altitude lakes in Leh Ladakh. This scenic wonder derives its name from the Tibetan word, "Pangong Tso", which means "high grassland lake". You could spend hours in contemplation here, and still not have enough of its beauty. Pangong Tso is also known to change colors, appearing blue, green and red at different times of a day. If you have decided to go on a trip to Ladakh anytime soon, don't forget to visit Pangong Tso Lake.
Serene, beautiful, color-changing, tranquil, and picturesque landscapes in the backdrop- is there anything else that you would want from a place? Pangong Lake is not only a prime attraction of Leh-Ladakh but a nature lover's paradise as well.
The mesmerizing Pangong Tso Lake is a delightful place on the Indo-Tibetan border. It is one of the world's highest located saltwater lakes perched at an altitude of 4350 m above sea level. The lake is almost 160 km in area and that's only one-third of the lake that's in the Indian Territory.
Everything that you should know about Pangong Tso
Best time to visit Pangong Lake
The best time to visit Pangong Lake is during the summer season between May and September. This is ideal because all the roads are open during these months and most adventurers plan on their trip to Ladakh during this season.
The altitude of Pangong Lake
Pangong Tso Lake is named amongst the highest altitude lakes of India. It is located at an altitude of 14272 ft or 4350 m.
Distance of Pangong Lake from some important places of Leh-Ladakh
| | |
| --- | --- |
| Places | Distance |
| Leh to Pangong Lake | 223 km |
| Nubra Valley to Pangong Lake | 275 km |
| Diskit to Pangong Lake | 229 km |
| Tsomoriri to Pangong Lake | 366 km |
| Turtuk to Pangong | 318 km |
| Kargil to Pangong | 435 km |
| Zanskar to Pangong Lake | 682 km |
How to Reach Pangong Lake
There are different ways by which you can reach Pangong Lake. Depending upon you (as to how you wish to cover the circuit) you can pick any of the below-given routes. All of the routes have their share of challenges and amazing views throughout the course of travel.
Route 1: Leh to Pangong Lake via Chang La
Leh- Shey- Thiksey- Karu- Sakti- Durbuk- Lukung- Phobrang- Pangong Tso
The total distance of this route that a person will have to cover is approximately 297 km but Chang La pass is a challenging pass that needs to be crossed with caution. The ideal time that a person takes to cover Leh to Pangong Lake distance on this route is approximately 8 hours.
Route 2: Nubra Valley to Pangong Lake via Shyok
Nubra- Panamik- Sumur- Tsati- Shyok- Durbuk- Lukung- Pangong Tso lake
This is an alternate route that travelers can take while traversing from Nubra valley to Pangong Tso. The total distance to be covered on this route is approximately 275 km and it needs about 8 hours to cover the distance.
Also read: How to travel Nubra Valley to Pangong Tso Lake via Wari
Things to do at Pangong Lake
Spending a night at the camp colony near the lake to enjoy the surreal beauty it has on offer. Camping around the lake is one of the most interesting and enthralling activities to do.
If you are visiting Pangong Lake during the peak season which is also the best time to visit Pangong Tso (Summer season- between May and September), enjoy a bonfire. Make yourself warm at the bonfire and enjoy a barbecue.
Enjoy a walk under the sheet of stars. If you decide to spend a night here, it is better to enjoy every bit of it. Take a walk around the lake during the night and check out the color of the lake. Do wear enough warm clothes because the temperature drops significantly near the lake at night.
One of the finest activities to perform around the lake is photography. Be it the lake or the backdrop, you will get some amazing clicks that would be memorable too. Dawn and Dusk photos are blissful, do try clicking a few.
Although there won't be a lot of species to spot, if you are an active bird watcher or wish to catch a glimpse of some migratory birds, you can stay for a while around the lake. You will surely get a species that will be hard to find anywhere else.
Accommodation options around Pangong Tso
Pangong Tso lake being a frequently and densely visited attraction of Leh-Ladakh has some good accommodations available. You get a lot of places to stay in summers and the numbers reduce during winters. To know more about the places where you can stay during your visit to Pangong Lake, click here!
Road Conditions
The roads in Leh Ladakh are generally bumpy and uneven, all the way to Chang La Pass. After that, the roads conditions get better gradually.
When it comes to the vehicles most suitable for the roads in Leh Ladakh, the safest option is to go with an SUV. They are best suited for the twists and turns that are common in the roads of Leh Ladakh.
Important tips and suggestions
Altitude sickness is real. Take a day's rest to get acclimatized.
Always carry enough warm clothes with you. In case your clothes get wet or incur some damage, you can always replace them.
Carrying a medical aid kit is very important, especially if you are going on a motorbike tour to Ladakh.
What you will find are small shacks in the villages that offer Maggi, hot soup and other stuff.
It's better if you carry dry fruits and biscuits with you.
Packages by Theme