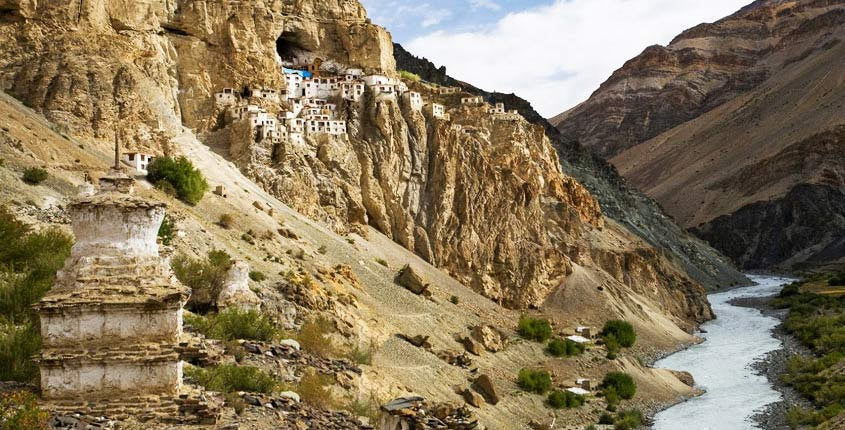 Phugtal Monastery
Introduction
Phugtal Monastery in Ladakh, a legendary cave gompa is tucked amidst the remote and isolated town of Phuktal or Phugtal. Counted as one of the only Buddhist monasteries in Leh Ladakh that is accessible only by foot, the Phugtal monastery is nestled on the cliff-side next to the River Lungnak. Nearly 70 monks dwell at this monastery which is believed to have been founded by GangsemSherapSampo in 12th century. The monastery has been a place for meditation, retreat, teaching and learning for ages. Phuk means 'cave' and tal means 'at leisure' or it's another version goes as Phukthar where thar means 'liberation'. Hence, the cave is called as the 'cave of leisure' or 'cave of liberation'.
What to see
The Phugtal Monastery amuses with various attraction to see in and around the monastery.
It has a library and many prayer rooms, where ancient scriptures are studied.
A temple, the original cave and the sacred spring are worth watching.
A stone tablet is also present here which epitomizes the stay of Alexander Csoma de Koros.
The frescoed walls of this colorful and unique architecture will render you speechless.
Major Events/ Festivals
A number of major festivals celebrated at the Phugtal Monastery are mentioned below.
Chudsum Chodpa: Thirteen special deities are worshipped during this festival.
Smonlam Chenmo: This festival marks the beginning of the New Year. It is celebrated for world peace and wellbeing of everybody.
Chonga Chodpa: the festival is a harvest ceremony. A special statue called as torma is made from the butter and barley flour and is worshipped.
Syungnas: A fasting ceremony to accumulate good karma.
Gyalwe Jabstan: A ceremony for long life of 14th Dalai Lama.
Gadam Nagchod: The lightning ceremony which marks the death anniversary of Je Tsongkhapa.
Phukta Gutor: The fiesta marks the end of Tibetan calendar.
Yarnas: Some monks remain confined within the monastery for this festival which is also known as Varshavas Ceremony.
Initiation of Vajrabhairava and Jigched Lhachusum Ceremony are other festivals celebrated here.
Nearby attractions
Anmu and Cha are two scenic villages nearby the monastery. These are the perfect destinations to relax after the exhaustive trekking. Soak-in the scenic beauty, communicate with the natives and simply enjoy a refreshing break. On the way to Phugtal, you can also visit Bardan and many other monasteries.
Best time to visit
July to September is the best time to visit the Phugtal Monastery.